Welcome to
Belfast Northern Ireland!
For news, shopping, discounts, property, events, what's on, directory services, advertising solutions, community news, free ads and photos - wherever you are in the city we've got you covered. It's one Great City & You're Invited!


For details on our magazines, editions, submission and print deadlines

Call Us Now: 07794 149 831
LOCAL BELFAST MAGAZINES
Let Simply Belfast Magazines tick all your boxes
Choose from our Eastside, Southeast, Southside or Metro Editions
Our publications are full colour A5 glossy style magazines
An enjoyable mix of local interest content & advertising
BOOK YOUR PLACE
Times may be hard but its more important than ever for your business to advertise and to reach out to potential and existing customers!
Its time to put your business up front and centre-stage in your local community and what better way than in our community focus magazines.
To book your place in our next edition, simply contact us and we will talk you through the options, ring 07794 149 831
WHY NOT BECOME A CONTRIBUTOR
Our Magazines focus on local and community content and we love submissions from the local community. So, if you would like us to consider your work for publication online or in print, contact us! We would love to include your recipes, gardening tips, household hacks, health and beauty tips and of course your photos new or old. You can also share with us your story ideas, your hot tips and upcoming events you want to invite us to. Perhaps, you are a professional, such as a doctor, solicitor, dentist, plumber, why not share your expertise with our readers. Simple contact us ring 07794 149 831
Businesses struggle for many reasons, the most basic of which is failing to advertise or market their business, product or service.
In short, if no-one has ever heard of you, they can't support you, your brand or your service.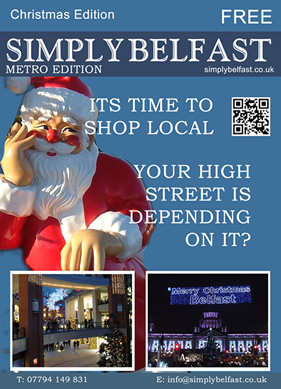 Our Magazines are an effective solution, capable of marketing your business and keep it in the minds of our readership all year round
For details on our magazines, editions, submission and print deadlines visit our
local magazine section or
Call Us Now: 07794 149 831
Visiting Northern Ireland?
Then why not use our essential Belfast Guide to help plan out your holiday.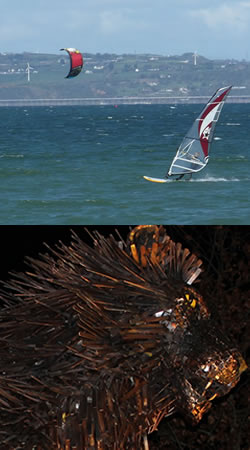 Our wee city is world famous for its Maritime Heritage including RMS Titanic and attracts world class film and television, the most famous being Game of Thrones. The City continues to undergo massive regeneration and if you haven't visited in a while, you'll really notice the changes.
The new Titanic Belfast musuem competes for dominance on the city's skyline with the world famous Harland & Wolff shipyard cranes Samson & Goliath. Our City Guide will help you make the most of your visit presenting you with details on Belfast's top attractions, its maritime past, museums, theatres, markets and leisure facilities. The guide can also help you with travel around the city and help using public services and facilities.
Belfast is one of the friendliest cities in the world and if you plan your visit well you will find great hotel deals, great restaurant experiences, days full of things to do both paid and free.
Did you know that Belfast is the birth place of world famous actors, sportmen, artists and musicians such as Kenneth Branagh, Nathan Connolly from Snow Patrol, James Galway, Sir John Lavery, Van Morisson, C.S. Lewis and Jamie Dornan who was born close by in Holywood.
Football legend George Best was born in the city, along with fellow football player Danny Blanchflower, Norman Whiteside and born just outside the city in Killyleagh, David Healy. Boxing Champions Carl Frampton, Wayne McCullough and Ray Close are also famous sons. The Hurricane, Alex higgins former world snooker champion is also from these parts, as was comedian Frank Carson and the singer Ruby Murray, made more famous by Del Boy who used her name as rhyming slang for curry. Television presenter Eamonn Holmes, comedian Roy Walker, international journalist John Irvine, Radio 5 Live presenter Stephen Nolan and local TV favourite Julian Simmons where all born right here!
So, enjoy our essential guide and your visit to one great city. At the end of your trip why not post email us your experiences and photos to us for potential publication in our magazines and on our sites!
YOU NEED NEVER BE BORED AGAIN...
THE KING'S FOR A DAY...
A GREAT CITY, BELFAST 2022...
RING ME, LET'S DO LUNCH...
DISCOVER THE CITY...
PLAN YOUR VISIT TO BELFAST...
Belfast Photos & Northern Ireland Image Galleries
From its culture to its history, from its festivals to its people, Belfast is one Great City and we have the photos to prove it! So, whether you're visiting the city, looking for inspiration or just checking out the best places and attractions to visit, our photo albums are a great place to start.

The city is historical know for its linen industry and shipbuilding. In 2012 the city marked the centenary of the sinking of the RMS Titanic by opening a remembrance garden at City Hall and the now world famous visitor attraction Titanic Belfast, located in the city's Titanic Quarter alongside the SS Nomadic. The maritime history of the city is everywhere from its famous Harland & Wolff cranes Samson & Goliath to city centre masks marking the building of just some of its most famous ships. Whilst its shipbuilding days are over for the moment, Belfast is still used for major ship repairs and refurbishments. It remains to this day a business port and in recent years has become a major tourist attraction with many cruise ships dropping anchor each year. The city has a fast growing television and film industry which uses Northern Ireland's fabulous scenery, coasts and castles as backdrops. Visitors to the city can enjoy a variety of things to do, from street exhibitions celebrating NI's links to Game of Thrones, to free indoor exhibitions and tours at City Hall & Parliament Buildings, Stormont. For avid photographers there are great views of Belfast and its skyline from the surrounding hills or the viewing dome at the Victoria Square Shopping Centre. In fact one of our photo albums has great cityscape views taken from the top of the H&W cranes Samson & Goliath. Throughout the year there is a host of activities you can take part in or watch. You can enjoy the city's marathon, its continental markets, its maritime events and its many festivals.

Before you go! We would love to publish your photos of Belfast along side your experiences and stories. So, if you have photos old or new, printed or in digital format email us, we'd love to speak with you! Oh, and if you have drone footage you'd like to share drop us an email!

If you want to explore more, simply visit our city guide, Click through on the images below if you would like to view these galleries or here to view our photo gallery index
Post Your Content Now!
Why just read the news when you can write it? Publish your news stories or news captions on Simply Belfast, East Belfast, South Belfast, North Belfast, West Belfast, Ballyhack, Simply Ards, Simply Lisburn, Simply Bangor and Simply NI.
You can join the online conversation via our blog and share your views with other users by creating your own reviews on anything you like from local business and restaurants to websites, products, books and much more...
Help us build a comprehensive Belfast Guide for our users and visitors by adding local buildings, landmarks, theatres, museums, churches and other attractions to our listsings. Help us build up a fun dictionary of how we speak here in Norn Iron. Add your words, phrases and their meaning.
If this isn't for you you may wish to avail of other online services which include listing jobs, announcements, new local businesses and events
If you are a business then there is even more good news, you can list discounts, products, property for sale and property to let. You can also add your business to our directory and publish domain specific stories
It all happening online and there's more to come so join in the fun! We're Belfast & You're Invited!